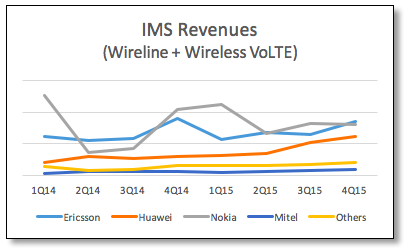 As voice-over-IP continues to take over the base of fixed-line voice subscribers, and as voice-over-LTE (VoLTE) begins to ramp, vendors must continually sharpen their strategies to capitalize on the transition from legacy core network technologies and invest in new technologies that allow their customers to better compete in an all-IP voice world. Our research reports outline the economics underlying these markets helping vendors, operators, and investors make sound investment decisions and to capitalize on emerging and transitioning markets.
Exact Ventures has published quarterly market share reports for the IMS market since 2011.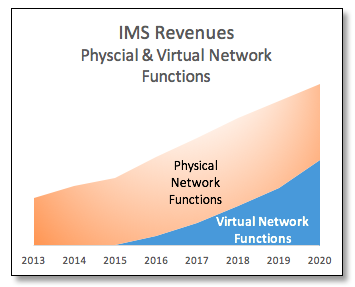 Exact Ventures' IMS/VoLTE 5-Year Forecast Report separates each market segment between Physical Network Functions (PNFs) and Virtual Network Functions (VNFs.) revenues, session shipments and average selling price per session.

Highly granular quarterly vendor shipments, revenues, and prices—and market forecasts—are available for the following markets:
Wireless/VoLTE IMS
Call Session Control Function (CSCF)
Home Subscriber Server (HSS)
IMS Voice Application Server (VAS)
Wireline IMS
Call Session Control Function (CSCF)
Home Subscriber Server (HSS)
IMS Voice Application Server (VAS)
Metrics tracked include:
Product Revenue (Hardware + Software)
Session or License Shipments by Region
Average Selling Price (ASP) per Session or License
Companies tracked include:
Broadsoft
Cisco
Ericsson
GENBAND
Huawei
Mitel
Metaswitch
Nokia
Oracle
ZTE